Smile, Hawaiian Wildlife: You're on Candid Camera
Laura Geggel, Staff Writer | July 15, 2014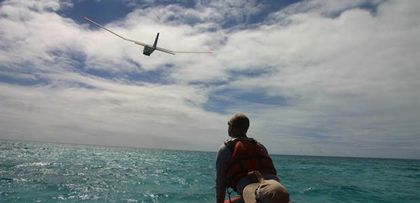 This summer, Hawaii's endangered wildlife will be on candid camera, as two kinds of drones survey the numbers and whereabouts of animals in their natural habitats.
The drones, funded largely by the National Oceanic and Atmospheric Administration (NOAA), will also survey plants, monitor remote waters, find garbage for removal, and record and photograph fragile ecological features in the Papahānaumokuākea Marine National Monument. This area encompasses nearly 140,000 square miles (363,000 square kilometers) of the Pacific Ocean, including parts of the Northwestern Hawaiian Islands.
The project will help researchers study secluded areas that are typically expensive, difficult and even risky to reach using traditional ships and planes without disturbing the species that live there. [9 Totally Cool Uses for Drones]
In June, scientists deployed a small drone named Puma from the deck of a NOAA research ship, dubbed Hi'ialakai, to take videos and still and infrared pictures of green sea turtles, Hawaiian monk seals and seabirds. Flying below 500 feet (152 meters), the drone, with a wingspan that measured 9 feet (2.7 m) across, also photographed marine debris and recorded footage of the shoreline and bird-nesting habitats.
"The operation validated our hopes that we can use the aircraft in the monument for a variety of missions, without harming the environment, to get data that we wouldn't otherwise get," Todd Jacobs, a scientist working with NOAA's Unmanned Aircraft Systems Program who is leading the Hawaii mission, said in a statement.
For instance, the Puma's recordings gave researchers a bird's-eye view of monk seal habitats that helped the scientists identify mother and pup pairs, and gauge the ages of the monk seal population.
"The data collected by the Puma will nicely supplement our current hands-on approach to the recovery of the species," said Charles Littnan, lead scientist for the NOAA Pacific Islands Fisheries Science Center's Hawaiian monk-seal research program.
In mid-July, NOAA researchers will launch NASA's Ikhana drone — an unmanned aircraft with a wingspan of 66 feet (20 m) that is designed to fly long-duration missions — from the Pacific Missile Range Facility in Kaua'i. With its radar, infrared and video cameras, Ikhana can make observations from an altitude of 24,000 feet (7,300 m), and can fly at lower altitudes to photograph wildlife and marine debris, such as abandoned or lost fishing nets at sea.
Scientists will also use the drones to assess sea turtle habitats, gathering information about key nesting and hatching periods, and to conduct surveys of 20 species of whales, dolphins and porpoises, according to NOAA officials. In addition, the unmanned aircraft will take detailed photos of seabirds and island vegetation that will help researchers decide how to manage native and invasive species.
Follow Laura Geggel on Twitter @LauraGeggel and Google+. Follow Live Science @livescience, Facebook & Google+. Original article on Live Science.