Poachers Force Massive Rhino Evacuation
Tia Ghose, Staff Writer | August 13, 2014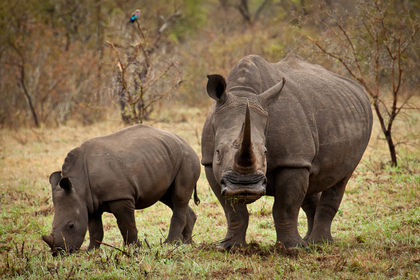 Hundreds of endangered rhinos will be evacuated from one of the largest national parks in Africa, according to the South African government.
The evacuation effort aims to protect the rhinos in South Africa's Kruger National Park from poachers, by moving the animals away from regions of high population density to safer areas.
The move comes in response to the country's rising problem with illegal poaching. Last year, poachers killed a record 1,004 rhinos in South Africa — more than double the number slaughtered in 2011 and astronomically higher than the 13 killed in 2007, according to the Convention on International Trade in Endangered Species of Wild Fauna and Flora (CITES). More than 60 percent of the slaughtered rhinos lived in Kruger National Park.
The growing demand for rhino horn comes mainly from Asian countries, where locals prize the ivory as a status symbol and sometimes use it in traditional medicine for ailments ranging from gout to rheumatism. [Black Market Horns: Image from a Rhino Bust]
Threatened species
Black rhinoceros are considered critically endangered by the International Union for Conservation of Nature (IUCN), which means the animals face an incredibly high risk of extinction in the wild. The IUCN categorizes white rhinos as "near-threatened," which means they may be at risk for extinction in the future. In total, about 21,000 rhinos from both species lived in South Africa in 2012, South African environment minister Edna Molewa said in a statement.
With the evacuation, officials aim to move rhinos from the park's vulnerable eastern edge, where poaching is rampant, to safer places across the country. Though the rhinos' final homes haven't been decided yet, the government is considering other national and provincial parks, safer spots in Kruger National Park, private reserves, and even other countries. The evacuation will also break up dense rhino populations into less populous groups; the dense groups face higher mortality rates and breeding pressures, Molewa said.
"The complimentary approach of strategic relocations from the Kruger National Park and the creation of rhino strongholds will allow the total rhino population size of South Africa to continue to grow," Molewa said in a statement.
Other approaches
The government is also stepping up its use of DNA analysis to tie rhino horn back to individual slaughtered animals, which in turn could help officials nab poachers. The country arrested many more poachers in the 2013/2014 financial year than in previous periods, according to the South African Department of Environmental Affairs. One notorious poacher, Mandla Chauke, was sentenced to 77 years in prison, department officials said.
But South Africa has other tools to fight the poaching problem. Last year, the government proposed selling all of its confiscated rhino ivory, in hopes that flooding the rhino horn black market would lower prices and reduce economic incentives for poaching.
This isn't the first time that rhinos have been evacuated. In 2011, 19 rhinos from East South Africa were airlifted to another region to protect them from poachers.
Follow Tia Ghose on Twitter and Google+. Follow Live Science @livescience, Facebook & Google+. Original article on Live Science.