Mexican Wolf Population Grows in Southwestern US
Megan Gannon, News Editor | February 3, 2014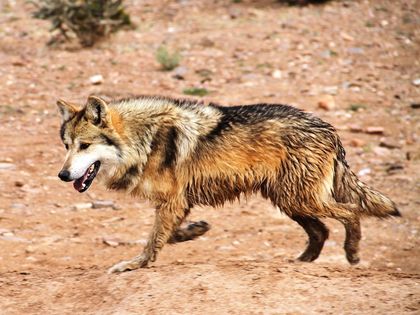 The Southwest's small population of endangered Mexican wolves, once driven to the brink of extinction, has grown for the fourth year in a row, according to the U.S. Fish and Wildlife Service.
By the end up 2013, there were at least 83 wolves roaming Arizona and New Mexico, up from 75 in 2012, a population survey found. Among the 14 known packs, there were five breeding couples and 17 newborn pups that survived until the end of the year.
Benjamin Tuggle, the U.S. Fish and Wildlife Service's Southwest regional director, said the Mexican wolf population has nearly doubled in the past four years and noted that the entire population consists of wolves that were born in the wild. The numbers, however, disappointed some conservationists who lament that the species' population growth has been slow.
Eva Sargent, director of southwest programs for Defenders of Wildlife, said the wolf population has "stagnated" and is "geographically and genetically stranded." In a statement, Sargent urged the Fish and Wildlife Service to release more captive breeding pairs into the wild and establish additional core populations to boost the species' numbers.
Meanwhile, Michael Robinson of the Center for Biological Diversity, said the wolves "remain a long way from being recovered, but this is definitely encouraging news." In 2008, the group helped overturn a policy that allowed wildlife managers in Arizona and New Mexico to remove and kill wolves involved in livestock depredations.
Mexican wolves, also known as lobos, once ranged throughout the Southwest, but were nearly extinct in the United States by the 1970s. After the species was listed as endangered, a captive breeding program was established to bring the animals back to the wild, starting with just seven wolves, according to the Fish and Wildlife Service.
The Mexican wolf is a subspecies of the gray wolf, which has also made a comeback in the continental United States after being hunted close to extinction; today, it's estimated that more than 5,000 gray wolves live in western Great Lakes states of Michigan, Minnesota and Wisconsin, and the northern Rocky Mountain states of Idaho, Montana and Wyoming, as well as eastern Oregon and Washington. The Fish and Wildlife Service has proposed taking gray wolves off the Endangered Species list, declaring the population sufficiently recovered, though many biologists are worried the move is premature. Under the proposal, the Mexican wolf would keep its endangered status. Federal officials are expected to make a decision later this year.
Follow Megan Gannon on Twitter and Google+. Follow us @livescience, Facebook & Google+. Original article on LiveScience.