Meet the pangolin, a prehistoric creature being hunted into extinction
By Nicole Mortillaro | March 21, 2016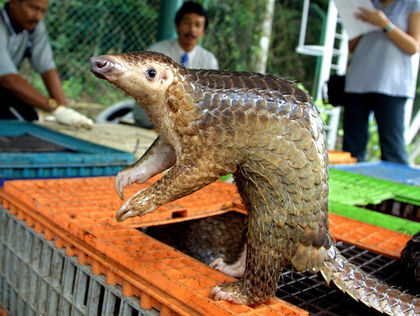 While we may know tigers, rhinoceroses, elephants and gorillas to be endangered animals, there are many more we don't know of, like this little guy, the pangolin.
The pangolin looks like a cross between an armadillo and a potato bug (it even rolls into a ball when threatened). This toothless creature feasts on termites and ants, using its long, sticky tongue. The pangolin can grow about 30 cm to 1 metre long and live in dense forests to savannas.
Sadly, these cute, lumbering animals are being hunted into extinction.
READ MORE: Endangered Species Act protections set for 2 groups of Africa's lions
There are eight species of pangolins — which are believed to be about 80 million years old — found across Southeast Asia. Though all eight are protected under various forms of national and international laws, including the Convention on International Trade in Endangered Species of Wild Fauna and Flora (CITES), most are considered endangered. And the primary threat are human beings.
Two suspected wildlife smugglers are pictured standing next to their car with dozens of endangered pangolins in Vietnam.
Though the pangolin's scaly exterior, reminiscent of a knight's armour, protects it from a toothy predator, it does nothing to protect it from its human predators.
According to the IUCN Red List of Threatened Species the pangolin has been hunted as a source of protein and for medicinal uses. A recent article in the Hindustan Times claims that each year about 3,500 pangolins are boiled alive in India, with the number totalling up to 10,000 worldwide. The creatures were listed as being the most traded species in India in 2015.
Though there are efforts to curb the slaughtering of this unique animal, their numbers are decreasing and the species may one day face the fate of the dodo.
(H/T to Quartz India.)