Speed Limits Could Save Rarest Dragonfly
Becky Oskin, Senior Writer | 18 août, 2014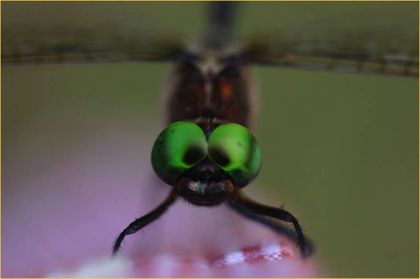 SACRAMENTO, Calif. — Slow down, drivers. You could save America's rarest dragonfly.
The Hine's emerald dragonfly is the only dragonfly on the federal endangered species list. The insect's largest remaining population lives in Door County, Wisconsin, where sandy beaches and cherry and apple orchards draw tourists from Green Bay and beyond.
A 2003 study found these summer drivers kill about 3,300 Hine's emerald dragonflies each year, said Amber Furness, a University of South Dakota graduate student. No one knows exactly how many Hine's emerald dragonflies are left, but there are at least 10,000 in Door County and up to 3,000 in the Chicago region. [Dazzling Photos of Dew-Covered Dragonflies & Other Insects]
Door County has posted two dragonfly warning-signs on roads near critical habitat areas. But can drivers really safely avoid a dragonfly at highway speeds, or even spot one from inside a car?
Searching for a better solution, the South Dakota researchers decided to see if dragonfly death rates were linked with speed.
Furness, a conservation biologist working with USD professor Daniel Soluk, mounted GoPro cameras on a pickup truck and drove the Door County roads in 2012 and 2013, varying her speed from 15 mph (24 km/h) to 55 mph (88 km/h) in increments of 10 mph (16 km/h). The cameras picked up each dragonfly's position before impact. Every time Furness hit a dragonfly, she tried to collect the carcass and verify the kill (a screen kept the insects out of the truck grill.)
Furness plans to publish the results of her research in a scientific journal, so it can serve as a reference for road planners. Her work was partially funded by the Illinois State Toll Highway Authority, which has already altered a bridge to protect the Hine's emerald dragonfly, raising a bridge span on Interstate 355 so the dragonflies can avoid collisions with cars.
"Insects are important too, and there are safer speeds that we can drive to try not to deplete their populations," Furness told Live Science.
While there is no speed that will guarantee a kill-free roadway, a 30 mph (48 km/h) limit would mean a much lower probability of deadly collisions, Furness said.
A dragonfly speed limit is not as far-fetched as it sounds, especially because it would be in place for only part of the year. Adult Hine's emeralds emerge in June and die off by August.
"It may be easier to say we only need to do it during flight season, and during the day, but we need to make sure people are actually doing it, just like any speed limit," Furness said.
Conservationists have already used speed limits and warning signs to protect other endangered species threatened by road crossings, such as Florida's panthers and Key deer, and Hawaii's nēnē birds. The populations of these three species are so low that deaths by car pose a serious hazard to their numbers.
Email Becky Oskin or follow her @beckyoskin. Follow us @livescience, Facebook & Google+. Original article on Live Science.