Newfoundland's smelly blue whale remains heading to Ontario
By Nick Logan National Online Journalist/Global National Web Producer Global News |  1 mai, 2014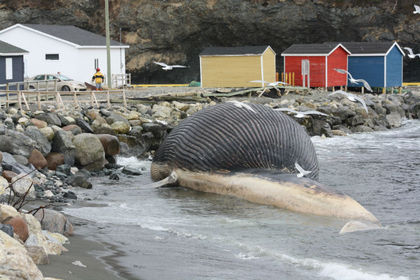 Western Newfoundland's rotting whale problem will soon be solved.
Rather than the towns of Trout River and Rocky Harbour having to live with the smell of decomposing blue whale this spring and summer, the Royal Ontario Museum (ROM) will remove and preserve two massive carcasses that washed ashore last month.
READ MORE: Dead blue whales washing ashore in western Newfoundland
The Dept. of Fisheries and Oceans (DFO) reached an agreement on Thursday for the ROM to take ownership of the remains of the two North Atlantic blue whales.
It's seen as a once in a lifetime research opportunity.
"It's very important that we preserve these animals as research specimens, so they aren't just lost," said Dr. Mark Engstrom, Deputy Director of Collections and Research for the ROM.
The North Atlantic blue whale is endangered and its estimated there are more than 250 adults in the Northwest Atlantic. The loss of nine animals represents about a five per cent loss of the overall population.
The blue whales won't be on public display just yet, but that's what Engstrom is hoping to do eventually.
"At the moment, that's a gleam in my eye and an unfunded prospect," he told Global News Thursday evening. "I think it would be a profound experience for people, but it would be a great way for me to talk about whales and to talk about conservation in general."
The decaying corpse of a blue whale, believed to have been crushed to death in ice last month, washed ashore in Trout River, N.L. early last week.
The decaying corpse of a blue whale, believed to have been crushed to death in ice last month, washed ashore in Trout River, N.L. early last week.
The decaying corpse of a blue whale, believed to have been crushed to death in ice last month, washed ashore in Trout River, N.L. early last week.
The corpse of a 25-metre blue whale washed up on the shore in Trout River, N.L. last week. Nine blue whales were crushed to death in ice off the coast of southwestern Newfoundland.
From a research standpoint this will be an amazing opportunity for everyone involved.
He's unsure about how many blue whales have beached in recent years, but it's been about 20 years since he's heard of one coming ashore.
"These things don't come along very often," he said. "It just highlights for me the rarity of these animals and, how every time I see one, just how amazing they are."
The blue whales that came ashore in Trout River and Rocky Harbour, both on the edge of Gros Morne National Park, were two of nine animals that were crushed in ice off the west coast of Newfoundland in March.
Engstrom got in contact with DFO when he first saw photos of the blue whales in early April, while the corpses were still trapped in the ice off the Gulf of Saint Lawrence.
Blue whale carcasses were spotted on the ice on southwest coast of Newfoundland.
He said if one of the bodies ever came ashore, he would like the opportunity to "salvage" it for research.
That was unbeknownst to the towns, which were told they would likely be responsible for removing the corpses.
Since washing ashore, the dead and decomposing mammals have been a source of stress — and stench — for the communities they came to rest in.
In Trout River, where a decomposing 25-metre blue whale has been a curious site for visitors, town officials feared the bloated beast might explode due to the gas building up inside it.
READ MORE: Smell of dead blue whale worsens as Newfoundland town awaits answers
The whale has deflated somewhat in the past couple of days, and it probably wouldn't have burst unless somebody had poked it or cut it open.
But, town clerk Emily Butler told Global News she was concerned about the effect the "rotting fish smell" could have on tourist season, as warmer weather set in, if a deal had not been reached to remove the dead mammal.
Engstrom agreed that was not something you'd want to live with, especially in 20-degree heat.
He's now trying to put together a team to take apart the blue whales, which are the largest animals on the planet, and aims to arrive in Newfoundland sometime next week.
After that it will take at least a couple of weeks, and tens of thousands of dollars, to cut the whales apart, take tissue and blubber samples, disassemble the skeletons and load them in a container to be transported to Toronto.
They'll be kept in a warehouse and made available for the Canadian and global research communities.