Conservationists march in South Africa, other nations for rhinos, elephants
By Staff The Associated Press |  3 octobre, 2015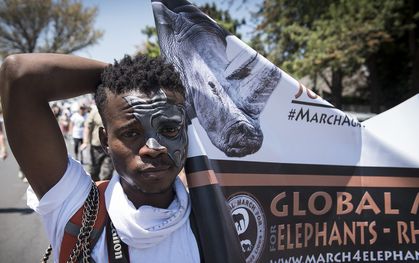 JOHANNESBURG – A vehicle carrying a rhino sculpture led anti-poaching marchers in a Johannesburg district. Kenya's environment minister joined conservationists at a similar rally in Nairobi, the capital. In London, activists in elephant costumes demanded an end to the ivory trade.
The demonstrations Saturday were part of what organizers called a "global march" for rhinos and elephants, whose populations have been severely reduced by criminal networks that sell rhino horn and elephant ivory for high prices, particularly in parts of Asia.
READ MORE: Conservation group aims to reintroduce 'critically endangered' black rhino to Chad
Organizers want governments to focus more on protecting wildlife, though they acknowledge that major challenges such as poverty and corruption facilitate poaching.
U.S. President Barack Obama and President Xi Jinping of China have agreed to take bigger steps to combat wildlife trafficking, including nearly complete bans on the ivory trade.